AP Series Air-Powered Mixers
Powerful mixing that doesn't break the budget.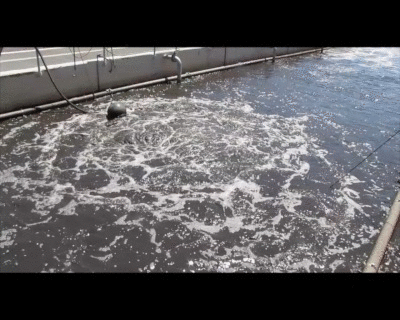 GridBee® AP Seres Air-Powered Mixers combine patented mixing and focused flow technology with a clog-free, air-powered pump. AP Series Mixers have no moving parts in the water offering years of maintenance-free operation even in high MLSS (mixed liquor suspended solids) applications.
Better yet, AP Series diffusers can be configured for minimized aeration (course bubble) or maximized aeration (fine bubble) while maintaining mixing effectiveness. This allows AP Series Mixers to be used anywhere in the plant from the anoxic basin to the aerated basin!
AP Series Mixers are also compact, lightweight, and easy to install by plant personnel and with a low purchase price. they have a fast payback in energy savings!
Air can be supplied by the customer's existing system or by our optional on-shore air units. Low-cost rentals are also available.

GridBee® AP Series Mixers have a range of sizes and two deployment configurations to achieve the right mix for your application.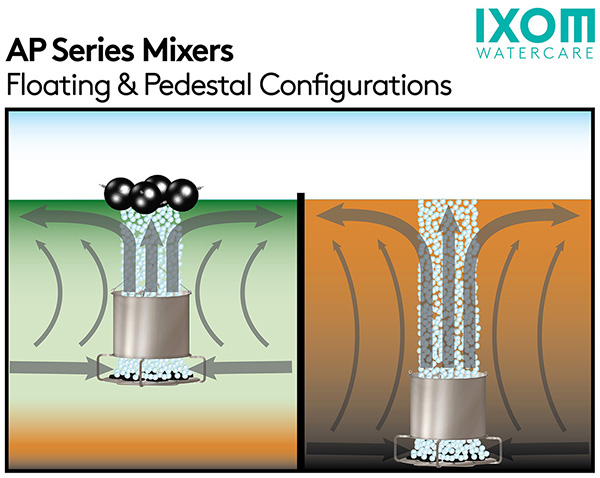 • Floating configurations can be set to mix a specific area of the water column leaving
solids and sediments below the mix zone undisturbed. They are designed for use in lakes, stormwater ponds, and wastewater ponds.
• Pedestal configurations rest on the reservoir floor. This deployment creates a full water column mix and helps to increase overall solids suspension. Designed for use in activated sludge wastewater basins, wet wells, lift stations, and industrial tanks and basins. Can be set on the bottom of basins to 50-plus feet in depth. 
We also have an AP Series mixing solution for lift / pump station wet well. Visit the GridBee® AP500 Wet Well Mixer Page!
Need more information?