Mixing Solutions For Equalization Basins
Better mixing. Potentially big energy savings.
1 - 3 year project payback possible!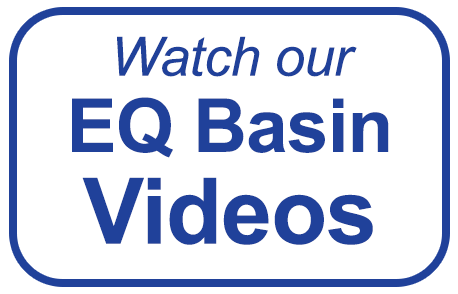 An equalization basin in front of a wastewater treatment plant acts as a shock absorber by providing a consistent and predictable flow into the plant regardless of variable flow entering the basin.
Thorough mixing is the key to success for any equalization basin.
Without thorough mixing, organic solids entering the pond will tend to settle to the bottom.  By keeping the water thoroughly mixed (sand and silt withstanding), water is better moved through the reservoir with less settling.   This creates a smaller detention time for both the water & organic solids and a more uniform and consistent influent entering the plant.
A good mix also keeps any anaerobic process from ever gaining any odor-causing momentum.
GridBee® AP Series Mixers can make all the difference.
The unique designs and flexibility of IXOM Watercare AP Series mixing equipment allows water to be drawn from the bottom of the pond (no matter the depth fluctuation) creating much needed bottom to top mixing regardless of depth fluctuations.
Check out our videos and learn more about Equalization Basin mixing using GridBee® AP Series mixing equipment.
Need more information?