AP500 Air-Powered Wet Well Mixer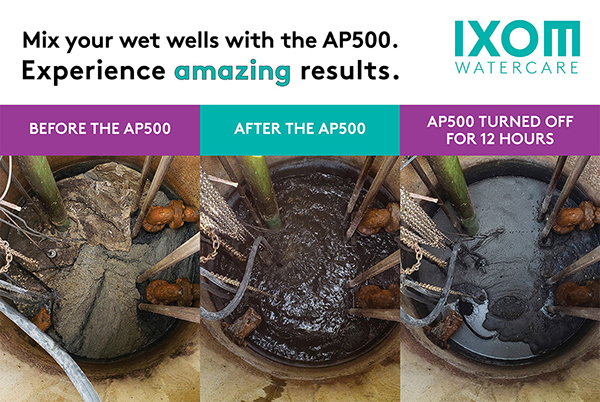 Turn your wet well mess into wet well success!
The GridBee® AP500 mixer helps keep solids—such as wipes—in suspension as sheets instead of clumps and prevents lift station pumps from clogging. Mixing also helps reduce H2S odors and corrosion as well as grease buildup.
These tough little mixers are ideal for almost all types of liquids in municipal and industrial wastewater treatment tanks, basins & ponds, or as a backup mixer.  shallow or deep - wherever mixing is needed.
• Constructed of 316SS and polymer materials
• Portable & compact (fits through a 14 inch opening)
• Easily installed by plant personnel
 

The GridBee® AP500 is shipped as a complete system including...
• the mixer,
• air hose,
• retrieval chain,
• and a quiet, long-life air unit
Real people. Real results.
"The mixers have been great for us. Previously we have had to send guys down to break grease off of the walls and rails inside the lift station. With the mixers, keeping the water in constant motion, we don't have the buildup anymore. This has been extremely beneficial to us not only for cost and maintenance but for safety as well. We currently have these in 9 lift stations. The setup we use is the AL200 compressor and the AP500 mixer. We have had minimal problems with either component. The issues that have arose have been quickly dealt with and customer service has always been top notch."

D.P. - Sewer Department Foreman
Be sure to check out our GridBee AP500 Wet Well Mixer Videos and other Supporting Resources below!
 
Need more information?