DBS-125 Portable Disinfectant Booster
Sometimes You Need A Little Boost
The Medora Corporation DBS-125 Portable Disinfectant Booster is specifically designed to pump the full range of concentrations of sodium hypochlorite. The design enables this system to be portable, operated by a wide range of portable air compressors, and allows the user to dose, rinse & air purge at multiple locations with a single unit.
Compact, Contained, & Portable Design
User friendly design featuring a disinfectant holding tank and fresh water rinse tank. Secondary self containment is integrated into the frame structural design. The unit is portable and easily its in small to full sized pick-up boxes.
Self-Priming Configuration
Pump location allows looded suction from both disinfectant and rinse water holding reservoirs. Pump is located inside containment enclosure for minimized user exposure and safe operation.
Corrosion Resisant Components
All wetted material components are of chemical compatibility with Sodium Hypochlorite. Stainless steel hardware and containment on non-wetted parts are utilized for atmospheric corrosion resistance.
Flow & Liquid Level Indication
Visible liquid level of chemical holding tank, with level indicators precise to fractions of a gallon.
Three-Stage Chemical Boosting System
Easily dose disinfectant with the high performance Air-Operated Double Diaphragm (AODD) pump discharging at a rate of 0.5gpm to 4.0gpm at heads up to 125psi or +200 ft. Easy liquid selection valve operation to switch from pumping chemical to pumping rinse water. Three-way main control valve allows user to switch from pumping disinfectant to pumping rinse water and to purge injection lines dry using the same air compressor operating the AODD pump.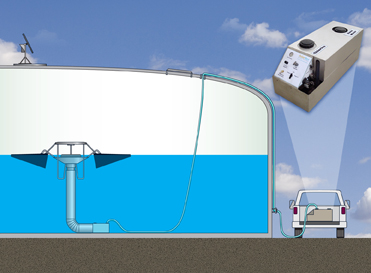 For more detailed, product specific information relating to this equipment model, please reference the Supporting Documents listed on this page.
Need more information?